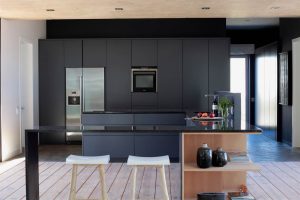 Atlantic Drive Yzerfontein
Have you ever dreamed of a house close to the sea? Waking up by sound of breaking waves? Then this house is just what you were looking for.
Nestled in beautiful Yzerfontein, a tranquil sea-side village, about 80 km away from the Cape Town. It offers unspoilt coastline with both rocky and sandy beaches including the famous 16 mile beach which stretches all the way to Postberg Nature Reserve.
Watch whales and dolphins playing in the breaking waves. Drive slowly, because there might be some ostriches crossing the road!
A brand new designer house could be yours to enjoy this beautiful piece of heaven.
Spacious 310 qm, 3 bedroom house, 3,5 bathrooms all en suite with 2 big wooden decks. One is overlooking the sea and due a green belt right in front, nobody will ever steal your view. The other deck is facing a big stretch of fynbos. It's built very wind wise, so you will always have a sheltered option to entertain.
When you open the frameless glass doors in the centre of the house you feel already like being outside. Cook up a storm in this designer kitchen with Siemens appliances (double door fridge with ice dispenser, ceran hob and eye level oven, dishwasher, washing machine and a hidden tumble dryer)
Get cosy with your family and friends in front of a designer gas fireplace and enjoy your food on a 3.5m long custom made wooden table.
Have your sundowner on a bar overlooking the vast stretch of fynbos with 16 mile beach on your left. Or just relax in your free standing bath while feeling outside. Just imagine to hear nothing but the sea and the birds.
The house comes fully furnished – so just move in! It's already listed by a location scout company and booked for photoshoots.
more features:
Alarm system
Solar geysers
Double garage
Ceiling height of 3m with shadow lines
Braai
Interior by award winning designer
water wise garden
and much more…..